Skin Peels – Reveal a fresher, more radiant you
Does the mention of a chemical skin peel make you wince?
Do you think of Samantha in "Sex in the City" with a bright red face shedding skin like a snake and think all peels are the same……..
They aren't & it's not necessary to visibly peel to achieve remarkable results.
A skin peel is as a way of resurfacing the skin, improving skin texture, firmness, brightness & appearance.
Benefits of a skin peel
We use a range of specific acid peel combinations to address;
Acne, blackheads, milia,
Acne Rosacea, Facial redness
Ageing skin, wrinkles, laxity
Pigmentation, sun spots, age spots, blemish marks
Deep wrinkles, Sun damage
Acne scarring, red & brown marks from old spots
We can treat faces, hands, back, arms & chest areas. Peels are suitable for all ages, ethnicities and all sexes!
Arrange a Consultation or Client's First Facial appointment at our Manchester clinic for specific advise & treatment
Skin Peels can be a useful & effective treatment for skin problems including:
Acne | Acne Rosacea | Acne Scarring | Wrinkles & Facial Lines | Freckles | Sun damage | Pigmentation | Dry skin | Dull Rough Skin | Blackheads |Whiteheads | Open Visible Pores |Ingrown Hairs | Scars| Smoker's Skin | Hormonal Skin problems; Pregnancy, Menopause & Adolescent's Skin |
What is a skin peel?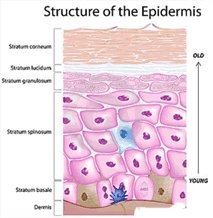 Many skin problems are caused by a build up of dead skin cells. Pores can block trapping oils and bacteria causing spots, blackheads, milia and acne.
With age and sun damage skin can become hardened, dull, dry & rough. New cells are made in the skin's "foundation" layer and like a brick wall are built up & pushed to the surface. They form a protective layer like roof tiles before detaching as the new cells come up to replace them. If these old dead cells aren't regularly removed the skin can develop problems.
This process slows down as we age; skin can look dull, fragile and parchment like.
By removing this debris in a controlled manner you can stimulate the skin's functions and regain healthy, smooth, clear, bright skin that is supple and re-elasticised; Skin looks and acts younger. Peels stimulate the cells which initiate new cells for healing and collagen production.
Our holistic approach to restoring skin with natural peeling agents to work WITH the skin not against it.
I use RegimA Peel & Heal, AlumierMD, Circadia & Image peels which contain natural acids such as Lactic acid from milk, Malic acid from apples. Hibiscus acid exfoliates even sensitive skin, citric and kojic acid treats pigmentation, salicylic acid from willow unclogs pores and reduces spots.
There is NO thinning of the skin,  NO tight shiny "mannequin" faces like you can get with deep chemical peels or laser resurfacing.
Treatments start with mild peels to condition the skin and can progress in strength.
With modern peel technology it is not necessary and rarely needed that a peel that causes visible peeling or shedding of the skin.
As the dead upper layer is removed the body is stimulated to make new skin cells including collagen and elastin, new capillaries are built bringing nutrition and the "wall tie" connections between skin layers are fortified – in the same way an injury forces skin to repair.
Our peels are safe for all skin types including skin of colour. They don't make your skin sensitive to sunlight and can be done all year round. They are designed to cause minimal if any peeling. Skin is treated progressively.
What happens in a peel treatment?
Treatment is pleasant.
After a thorough cleansing the peeling solution is applied to the skin giving a feeling of warmth & tingling which lasts briefly and includes a full facial protocol of nurturing products to "feed" the cell turnover and rebuilding we've started.
You leave the clinic looking fresh and radiant with perhaps a slight "flush" that settles within a couple of hours.
Aftercare and home maintenance is strongly recommended and we will suggest what products to use after treatments. Results can be seen and felt after first treatment with ongoing improvements during a series of treatments.
Prices from £85
Add-on Dermalux LED Red light therapy reduces redness & promotes collagen – £20 supplement
---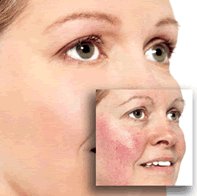 Problem: Acne Rosacea, Facial Redness, Active Acne , Thread Veins, Dull, Smoker's Skin
Although not a peel an Oxygen or O2 Lift treatment will make a difference to your skin's function and appearance.
Oxygen treatment can be used on any skin type or colour. Oxygen's anti-bacterial action makes it extremely beneficial for acne especially cystic acne. Oxygen facials lighten and brighten the skin and reduce redness – ideal for Rosacea. The result is clear and luminous skin.
Oxygen facials lightens and brightens blemish marks and pigmentation.
Stimulates fibroblasts – the cells which initiate new cell formation, healing and collagen production.
Decreases facial redness, calms superficial capillaries reducing redness.
To enhance the penetration of the bubbling activated Oxygen mask and to decongest acne, blockages and lighten pigmentation I incorporate a fruit enzyme gentle peel in the treatment.
Regenerating antioxidants and re building stem cell serums are massaged into the skin with firming, sculpting and lifting massage strokes.
Improvements can be seen and felt after one treatment however for optimal results a course of treatments are recommended
---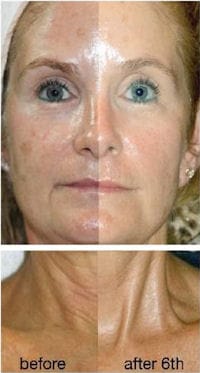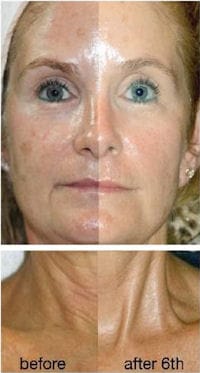 Problem: Ageing skin, wrinkles, loss of firmness, sun damage
Circadia's SWiCH Dermal Repair re energises your skin
This has to be one of the most exciting developments in anti ageing skincare treatments I have worked with!!
SWiCH Recharges your skin's batteries!
A scientific breakthrough that helps enhance mitochondrial (cell energy) function and restores skin to its youthful appearance. Using Pyruvic acid to "turn on" the energy production in treated cells.
This is Barbara – I know her personally and can vouch for the fact she has had neither cosmetic surgery nor Botox – I've checked for scars!
This is a leave on treatment which activates the skin cells energy output to behave in a more youthful manner. I often incorporate SWiCH Dermal Repair treatments into a general rejuvenation programme for clients as it improves skin function and response to treatments & skincare products.
A pleasant treatment with little disruption downtime & wonderful results. This treatment can improve the face, neck, chest and hands.
Results: younger, smoother, glowing, firmer, brighter skin!
A course of six treatments at monthly intervals at our Manchester clinic is recommended
» Properties and Actions: More information
Don't worry about which facial treatment is best for you…..
Book in online now for your Facial Skincare & Treatments Consultation appointment
We can discuss your requirements and treatment options.
Want to start treatment NOW? Call us on 0161 796 1169 for a
Book in online for New Clients' First Facial with Consultation & Skin Scanning
You'll receive an appropriate treatment and get all the advice you'll need