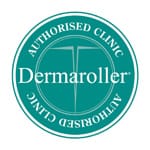 Collagen Stimulation & Hydration
Dermaroller Skin Needling with injectable skin hydration
As we age our skin looses its radiance and becomes crêpey with fine lines and wrinkles.
We can help to restore your skin.
Combining two very effective treatments to maximise the restoration of your skin.
Problem: Dry, dull, thin, devitalised, crêpey, sun damaged, wrinkly skin on your face, neck, chest or hands?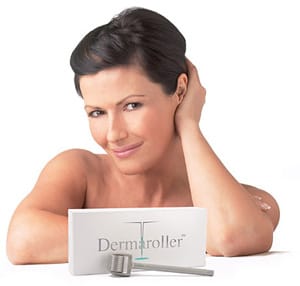 Treatment: First we numb the area to be treated. Using the unique injector device we systematically introduce tiny amounts of Restylane Vital Light hyaluronic acid hydrator under the surface of the skin. This quick and comfortable procedure immediately adds deep hydration into your skin. Then we treat the same area with a sterile Genuine Dermaroller clinical skin needling roller. The roller is methodically passed over the skin to induce micro channels into the skin.
Result: This combination therapy quickly hydrates the skin, stimulates production of new firmer collagen resulting in a more youthful, radiant skin with long lasting results.
Why Combine?: By combining the two procedures you will achieve a pleasing result quicker than having the treatments individually. Individually both treatments are meso therapeutic (mesotherapy) the introduction of small amounts of therapeutic hydrating fluids into the skin's layers. Both treatments induce collagen production by stimulation of the fibroblast cells in the skin which are involved in skin healing after injury.
» Please see the individual treatment pages for more details
After the treatment: Your skin will be reddened for a few hours. There is a chance of minor bruising in older clients. Your skin will feel a little warm and tight for a day or so, however, make up can be worn the day after and there is usually no other downtime
Results: The treatment is progressive. Visible results begin to show after a week (hydration) and skin begins to firm up after 4 to 6 weeks with greatest improvement after 2nd treatment We recommend a course of 3 treatments spaced 6-8 weeks apart for maximum benefits and a maintenance treatment every 12-18months
Who injects Restylane Vital & mesotherapy skinboosters at the clinic?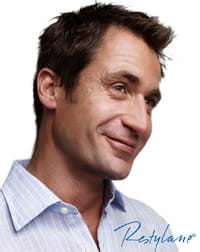 Our Nurse Prescriber Clare Deaville(Reg with NMC 83A4092E) has been with us since 2001. She has over 25 years medical experience qualifying to Sister / Nurse Practitioner in the NHS.
Clare has undergone extensive specialist training in all aspects of injectable medical aesthetics and cosmetic surgery procedures. She was a Nurse trainer for Restylane for a number of years where she trained Doctors and Nurses in the safe use of injectables & dermal fillers.
Clare is qualified and registered as an Independent Nurse Prescriber which means she is fully authorised to medically assess and prescribe for our clients.
This complies with current government guidelines. Clare will conduct a thorough consultation with you to evaluate your medical history & determine your suitability for this treatment, offering advice on alternative treatment options such as effective skincare routines, advanced skincare treatments or cosmetic facial acupuncture. There is no pressure to have treatment – you're under no obligation to proceed. We use Restylane & Teosyal's range of award winning dermal fillers & skinboosters for the treatment of all these needs. Consultations are FREE of charge with Nurse Prescriber Clare on Wednesdays and Fridays 9am to 7.30pm Fast and safe dermal filler with immediate results
Over 15 million Restylane filler and skinbooster treatments have been carried out since their launch. Dermal fillers are crystal clear gels that are injected into the skin (or just under) in small amounts to restore volume and structure. Our skin naturally contains hyaluronic acid which keeps the skin plump & hydrated but diminishes with age. The hyaluronic acid in Restylane & Teosyal is non-animal which means that no skin tests are needed and that there is minimal risk of allergic or hypersensitive reactions. The injected gel gives natural volume under the skin which is lifted up and smoothed out.
A treatment takes about 2 hours including "numbing" time for the local anaesthetic cream.
The effects of our dermal fillers & mesotherapy skinboosters are not permanent; most patients choose to have a follow-up treatment nine to twelve months later. Clinical trials show that Restylane & Teosyal are effective for up to 18 months after the treatment of wrinkles.
Treatment is comfortable. Local anaesthetic cream is applied to areas to be treated The dermal filler itself contains local anaesthetic too.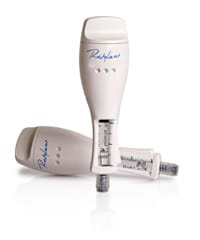 Prices:
All options include Consultation, pain relief and post treatment home care kit
Face Gel Needling Lift : £499
Face & Neck Gel Needling Lift: £550
Chest Gel Needling Lift: £499
Face, Neck & Chest Gel Needling Lift: £675br /> Hand Gel Needling Lift: £399
Consultations are free of charge with Nurse Clare – Appointment for treatment can be planned for a future date thereafter
Please book Nurse Treatment & Review appointment option
For more information contact us now 0161 796 1169 or book in online now