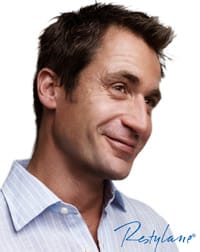 All our treatments & services are available for male clients of all ages & skin types
Unlike a "Beauty Salon" where the atmosphere and decor is typically feminine and where men might feel put off by an all female staff  – my clinic is different!

As a small, exclusive Manchester clinic, my appointment system is designed so that it's unlikely that you'll see anyone else whilst you're here.
All treatments are conducted in individual treatment rooms.
Treatments are conducted by experienced, mature therapists
Private parking
Plasma Non Surgical Eyelid Lift – Plasma eye-bag reduction – Scar & Wrinkle treatments  using Plasma Beamwave technology to shrink excess skin on your upper eyelid or reduce eye-bags without surgery. No scars, no general anaesthetic, no scalpels. Treatment by our own Dr Joshua Nivern Read More
Hairloss Treatment for thinning hair – Using AQ Skin Solutions human identical growth factors combined with micro eDS dermastamp & Dermalux LED light therapy to stimulate hair follicles
Men's Skincare Facials – Bespoke, "made to measure" facial skincare treatments tailored to the needs of a man's skin. Tired looking skin, acne, ingrowing hairs, dry patches, blackheads. For all skin types & ages from teenagers problematic skin to older, mature gents ageing skin concerns
Dermal fillers & Skinboosters – Smooth out facial lines, increase volume in gaunt cheeks after weight-loss or illness, redefine your chin or jawline, fill in scars. Restore deep skin hydration, increase skin radiance.
We offer specialist  injectable treatment for sunken, hollow, dark, under eye area. Redensity treatment hydrates, smooths and brightens delicate tear trough area
Lip enhancement – improve a thin, mean looking mouth to achieve a natural look.
Skin firming & Neck tightening  – injectable Profhilo treatment deeply moisturises, firms, tightens the face, sagging  jowls and aged necks without telltale puffiness or distortion
Skin Peels – refresh skin texture, look less fatigued, treatment for acne, spots, blackheads & shaving issues such as ingrowing hairs. With our extensive range of skin peels you won't need time off work, no telltale "peeling" skin. Get smoother, firmer, clear skin, reduces visible pores. You'll leave looking refreshed with ongoing improvements – For all skin types & ethnicities
Dermalux Red & Blue Light Therapy – developed for NASA astronauts to maintain wellbeing in Space. Therapeutic wavelengths of red, blue & near infrared light energises skin cells to produce collagen & retard ageing, reduce inflammation & kill acne causing bacteria.
Colon Hydrotherapy / Colonic Irrigation  – feel lighter, reduces bloated gut feeling, reduces flatulence & wind. Relieves constipation and IBS symptoms. Can help to improve skin issues such as acne. Not as scary or embarrassing a treatment to have done as you may think – we treat real men from all walks of life!
Microdermabrasion – For deep skin exfoliation (or scrubbing to you). A controlled "sand blasting" of the skin with fine crystals to smooth skin texture, remove blackheads, whiteheads and ingrown hairs from shaving rashes.
We can treat acne prone skin including acne scarring / marks on face or back. Read more here
Dermaroller & eDS Dermastamp Skin Needling – Concerned about facial scarring from old acne or chicken pox? Worried that you're showing your age a bit? Skin getting a bit wrinkly or tired around the eyes? Hair going thin on top? Dermaroller or eDS Dermapen medical skin needling could be what you need. Simple, effective treatment for firmer, smoother skin. Minimal downtime or disturbance to your routine and anyway its quite a macho treatment to have. Read more here
Facial Rejuvenation Acupuncture
Facial Acupuncture uses super fine needles to stimulate firmer facial features and smooth wrinkles, lines and eye bags. Teeth grinding and jaw clenching can be relaxed, relieves tension and stress related headaches.Acupuncture will also help re-balance and re-energise your body and is de-stressing. Facial acupuncture can assist with acne and rosacea (facial redness) too.
Apart from looking like Hellraiser for an hour no one else will guess how you've achieved your handsome good looks.
For more information see our main Facial Acupuncture pages
Acupuncture
Traditional Chinese acupuncture treatment can re energise you, ease aches and pains from sporting injuries and occupational fatigue.
For more information see our main Acupuncture pages