Food intolerance is not life-threatening but can cause unpleasant symptoms that can be delayed for many hours or even days after eating the offending food. For this reason it is often hard to identify food causing the problem.
Food intolerance can produce a variety of symptoms such as;

Respiratory  Respiratory disorders, rhinitis, sinusitis, asthma, ear infections, throat pain, cough, hoarseness, mucous build-up

Gastrointestinal – Vomiting, bloating, cramps, nausea, feeling of fullness, constipation, diarrhoea, colic, irritable bowel syndrome, digestive disorders, (stomach, intestines), and Crohn?s disease , hemorrhagic ulcers, coeliac disease, mucous build-up ( sticky / messy stools)

Skin – Hives, eczema (atopic dermatitis), infantile eczema, acne, psoriasis, redness, dry skin, itching.

Central Nervous System – Migraine, headaches, dizziness, concentration disorders, drowsiness, depression, hyperactivity, fatigue

Musculoskeletal System – Arthritis, joint and muscular pain, back pain, weakness, fibromyalgia, cramps, inflammation

Eyes – Dry, watery, red, swollen eyelids, stuck together

Endocrine – Type I diabetes, obesity and type II diabetes, thyroid issues

Cardiovascular – High blood pressure, atherosclerosis, palpitations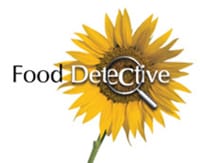 The Food Detective Intolerance Test is one of the best methods for detecting IgG antibody reactions to foods.
This is a finger prick blood test assessing intolerance to 59 foods using principles of an enzyme immunoassay, clinically acknowledged ELISA technology.
We feel that this test is more accurate than other non invasive test methods.
Results can be obtained same day of your test.
Which foods are tested?
Oat
Wheat
Rice
Corn
Rye
Durum wheat
Gluten
Almond
Brazil
Cashew
Cola nut
Walnut
Cow's milk
Whole egg
Chicken
Lamb
Legume mix (pea,lentil and haricot)

White fish mix (haddock, cod and plaice)
Freshwater fish mix (salmon and trout)
Tuna
Shellfish mix (shrimp, prawn, crab, lobster and mussel)
Broccoli
Cabbage
Carrot
Leek
Potato
Celery
Cucumber
Peppers (red, green and yellow
Grapefruit

Melon mix (cantaloupe and water melon)
Peanut
Soya bean
Cocoa bean
Apple
Blackcurrant
Olive
Orange and lemon
Strawberry
Tomato
Ginger
Garlic
Mushroom
Beef
Yeast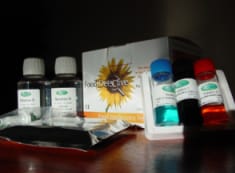 Once identified, the offending foods can be eliminated from your diet usually for a period of 3 months. Each food is then re-introduced one at a time and previous symptom return is monitored closely and the diet adjusted accordingly.
How much is a food intolerance test?
£99 – The price for food intolerance testing is inclusive of an initial consultation .Specific nutritional advice will be given, tailored to your needs.
To make an appointment for your consultation call me now on 0161 796 1169 or click the box below
Make An Enquiry About This Treatment
Use our online booking facility »