Facial rejuvenation & revitalisation using acupuncture provides a natural alternative to injectable anti wrinkle treatments.
Facial rejuvenation using acupuncture can be combined with our prescription facials or peels or simply on its own and it's all available at our Manchester clinic.
Facial cosmetic acupuncture revitalises your face & skin – it is simple, safe and efficient. An effective treatment for producing a younger looking, firmer, healthier looking appearance.
Our facial acupuncture facelift treatment incorporates a holistic consultation and full body treatment to restore balance and energise the body. Stresses, imbalances and illness will manifest themselves in the face therefore we treat the whole you – not just your face.
The super fine, sterile, single use needles used for facial acupuncture are finer than those used for the body.
We also utilise tiny, hair thin intradermal needles which are introduced along wrinkles to stimulate collagen along the wrinkle – this is especially beneficial for upper lip lines, smoker's lines, crow's feet and frown lines.
There may be some sensation of the needle being inserted but it should not be painful.
Most people find these sessions very relaxing.
How does cosmetic acupuncture work?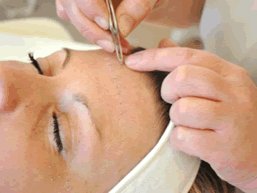 The precise insertion of super fine needles stimulates blood flow into the areas treated.
This induced "injury" naturally stimulates the body's own healing responses. New collagen and elastin is created as the body has been "tricked" into thinking that a wound needs repairing.
This is how the body naturally repairs and regenerates itself after an injury. This is the same principle used in treatments such as dermaroller skin needling, microdermabrasion, chemical peels and laser resurfacing – but without damaging or removing the upper surface of skin.
Facial acupuncture stimulates energy flow, metabolism and lymphatic drainage (detoxifying).
Facial features including musculature are stimulated to leave you looking refreshed, toned, cheeks and jowls lifted, wrinkles, puffy eye bags and crow's feet smoothed.
Results can often be seen after the first treatment with ongoing improvements after a course of treatments – we suggest a course of 6.
While facial and scalp acupuncture can improve general skin and muscle tone it can also be used to target specific problem areas such as:
Eye Bags
Drooping Eyelids
Crow's feet
Wrinkles around the mouth – Smoker's Lip Lines
Double chin
Jowls
Acne
Rosacea
Dry skin
Poor complexion
Pigmentation issues
Studies published in the International Journal of Clinical Acupuncture in 1996 showed that of 300 people who received Facial Acupuncture, 90% demonstrated marked results after only their first treatment.
Your treatment may include additional traditional Chinese therapies as may be appropriate for you – this will incur no extra fee.
Treatment
Treatments are given by our  Practitioner – Clare  a member of the Acupuncture & Acutherapy Council , who has been with us since 2000.
Clare is fully qualified to perform Traditional Chinese Acupuncture, Facial and Auricular Acupuncture.
Clare has particular expertise in facial rejuvenation using cosmetic acupuncture as well as being qualified to administer injectable treatments such as dermal fillers, mesotherapy – the Diane Nivern Clinic's holistic approach to looking your very best can incorporate bespoke facial skincare treatments and home skincare routines to deliver radiant, firmer, younger looking skin for men and women of all ages.
Fees:
First Treatment including detailed Consultation £99
Follow up Facial Acupuncture Treatments £85
Treatments are available at our Manchester clinic