Wrinkle relaxing injections for furrowed brows, crow's feet & frown lines
Anti ageing injections can give you a relaxed & more youthful look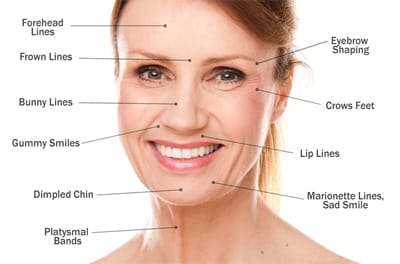 Facial injections of botulinum toxin better known as botox is a medical aesthetic procedure to improve the appearance of "worry lines", "frown lines", "crow's feet", forehead wrinkles, sagging neck lines, smokers lip lines and other so-called dynamic wrinkles.
Precise injections are expertly injected into specific areas of the face; usually around the forehead or eyes but we can relax the upper lip  for smoker's lips or where one's smile reveals excessive gumline or tighten sagging necks (Nefertiti Lift) using a fine needle.
Botulinum (botox) injections temporarily relax muscles used in facial expressions that cause wrinkles. The effect can take up to fourteen days to take effect. After treatment, the overlying skin becomes smoother whilst untreated facial muscles contract normally, allowing normal facial expression to be unaffected.
We specialise in the subtle use of botox injections to facilitate a refreshed NOT altered appearance.
Treatments are suitable for men and women over the age of 30+ Younger clients will be encouraged to try restorative and preventative skincare products & treatments
Anti ageing wrinkle smoothing injections can also be used to compliment dermal fillers such as Restylane & Teosyal dermal fillers
Our philosophy on botox and dermal fillers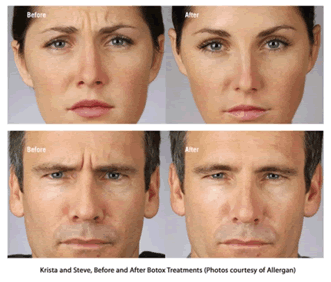 Wrinkle relaxing and dermal filler injections are a useful tool in the pursuit of looking better but they are not the "be all and end all".
Clients often attend my clinic presuming the only way to look younger is to have wrinkle relaxing or dermal filler injections.
We can use botox and dermal fillers as part of an overall approach to healthy, natural looking skin.
We discuss treatment options to help you achieve your such goal. This will include alternatives to injectable treatment, an effective home skincare routine and in-clinic skin rejuvenating facials.
In this way you are fully aware of all your options in helping you achieve a natural look with firmer, radiant, healthy skin.
Our Aesthetic Nurse;
Our resident Nurse Independent Prescriber Clare Deaville has been with us since 2000. Clare holds the title "Aesthetic Nurse of the Year 2014" awarded by the Good Surgeon Guide's Public Choice Awards.
She has over 25 years medical experience qualifying to Sister / Nurse Practitioner level in the NHS.
Clare has undergone extensive specialist training in all aspects of injectable medical aesthetics and cosmetic surgery procedures.
She was a Nurse trainer for Restylane for a number of years where she trained Doctors and Nurses in the safe use of injectables & dermal fillers.
Clare is qualified and registered as an Independent Nurse Prescriber which means she is fully qualified and authorised to medically assess and prescribe prescription only wrinkle relaxing solutions for our clients. This complies with all current government guidelines.
Clare will conduct a thorough consultation with you to evaluate your medical history & determine your suitability for this treatment.
We offer advice on alternative treatment options such as an effective skincare or treatment regimes.
If you are suitable for botulinum  you can receive the injections the same day.
Injections are precisely introduced to specific areas of the face with a very fine needle which causes minimal discomfort.
After Anti Ageing Injections
We advise you to avoid excessive exercise, avoid excessive heat, saunas, vigourous activity nor fly for 48 hours following botox injections.
It is advisable to refrain from lying down within the first 4 hours after injections.
Immediately after injections there may be some redness, swelling, tenderness or an itching sensation in the treated area.
Very occasionally there may be minor bruising. This is a normal result of an injection & should resolve within a week. Avoiding alcohol or aspirin will minimise chance of bruising
How long will injections relax wrinkles for?
Botox injections can take up to 14 days to activate and results last 3-4 months. The wrinkle smoothing effects gradually wear off and you return to your original appearance. To maintain the effects follow up treatment may be required.
Some examples of what anti ageing treatments could do for you!
See before & after pictures
Prices for facial wrinkle relaxant injections
Upper Lip Lines £200
£240 for first or one area (the sides of each eye counts as one area)
£270 to £300 for two areas
up to £350 for three areas – depending on quantity used
When comparing prices PLEASE consider that we only use authentic prescription only products at the correct concentration.
We charge per area NOT per injection.
We have our own resident practitioner – other salons / clinics may have a "visiting" practitioner who may not be available to see again for several weeks after your treatment if you needed post treatment advise
We offer a free post treatment review appointment and should a top up injection be required to adjust the effect we do not charge you more, no hidden extra charges.
(Corrective "top up" injections at the nurse's discretion and must be done at 14-16 days post treatment only)
Make an appointment for expert advise without any obligation with our award winning Independent Nurse Prescriber Clare Deaville call us now or book in online for a Nurse Consultation appointment
Our clinic is conveniently situated to provide expert botox, dermal filler & lip enhancement injections for Manchester, Bury, Prestwich, Altrincham, Bolton, Lancashire, Cheshire, Ramsbottom, Haslingdon, Horwich, Chorley, Hale
Images courtesy of Allergan.com
Make An Enquiry About This Treatment
Use our online booking facility »