What is Acupuncture?
The ancient art of acupuncture originated in China over 2000 years ago. It has recently been introduced into mainstream healthcare, as a standalone treatment or in combination with conventional western medicine.
Acupuncture works by maintaining your body's natural balance. It does this by regulating the flow of Qi (chee) – your body's vital energy. There are many reasons why the flow of this energy can be interrupted, depleted or blocked, which in turn affects how the body functions, producing symptoms in the body such as pain. The use of traditional acupuncture can be an effective treatment to restore balance and promote physical and emotional health.
The aim of traditional Chinese medicine is treating the root cause of the presenting condition along with symptoms. This holistic approach helps to restore the problem at its core, whilst giving a general sense of well being. A welcome side effect of the treatment is relaxation and calmness; you may also notice that niggling problems disappear as your main health complaint improves.
How can acupuncture help you?
Many people turn to acupuncture as an alternative to traditional western medical treatment. In some cases to treat a specific condition, others chose it as a treatment to maintain optimum health & well being. Acupuncture treats people holistically, so each person's treatment is individually catered for.
What conditions can Traditional Chinese Acupuncture be beneficial for?
This is by no means a comprehensive list;
Pain: Chronic/Acute pain, back pain, sports injury, arthritis – osteo and rheumatoid, muscular pain, frozen shoulder, whiplash, sciatica, restless legs
Women's Health: Infertility, IVF, Menstrual & Menopausal problems, Pre conceptual health
Mental Health: Stress, Anxiety, Depression, Phobias, Addictions
Digestive Health: Irritable bowel syndrome –  IBS, constipation, diarrhoea, cramps
Respiratory Health: Asthma, hay fever, sinusitis, rhinitis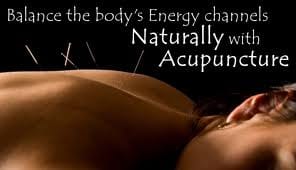 Consultation
A number of different diagnostic methods are used to obtain a complete overview of your lifestyle and general well being. This includes a comprehensive medical history.
We will send you a medical questionnaire when you book in to complete and bring to the consultation. Pulse and tongue diagnosis are also taken, this can take between 20 or 30 minutes.
Diagnosis
Based on the information given during the consultation a diagnosis is made on the traditional Chinese model. A personalised treatment plan is implemented. This treatment programme will be evaluated at the beginning of each subsequent treatment.
Treatment
The actual treatment itself, involves inserting very fine needles into specific acupuncture points on the body in order to regulate the flow of Qi (chee) – your body's vital energy.
The needles remain in place for 30 to 40 minutes. All needles used for treatment at the Diane Nivern Clinic are of the highest quality for maximum patient comfort – single use, sterile & individually packaged.
---
Additional Therapies
Your treatment may include additional traditional Chinese therapies as may be appropriate for you – this will incur no extra fee.
Auricular Acupuncture (Ear Acupuncture)
Auricular acupuncture is acupuncture of the ear. Various parts of the body correspond to specific points in the outer ear. These points are stimulated to help treat a numerous conditions. It is particularly useful for pain relief. It can also be used to treat addictions such as smoking or weight management, addictions and phobias.
Fine needles are used during treatments. Tiny, unobtrusive metal "seeds" – like tiny ball bearings – can be affixed with flesh toned micropore tape to an ear point to enable you to press and stimulate the point between treatments.
Electro-Acupuncture
This type of acupuncture uses small electrical currents similar to a TENS machine to stimulate acupuncture points. Small electrodes are connected to the needles in order to direct the current, in pulses to the body. This method is extremely effective for improving neuralgic or muscular pain.
Moxibustion
Moxibustion is an extremely common traditional Chinese Medicine technique that involves applying heat to locations on the body through the burning of the dried herb mugwort. Mugwort burns hot when ignited. The smoldering dry herb is contained within a special box that can be placed on the body to safely introduce the warmth. When directed over the skin the mugwort delivers a pleasant and deeply penetrating heat to the body.
Moxibustion herbs can also be compressed into a candle-like stick that can be used to gently warm the acupuncture needles in situ. This part of the treatment is very comforting, relaxing and calming.
Cupping
Cupping involves creating a vacuum in a cup like device which is then applied to the area of the body requiring treatment. The vacuum creates a pulling pressure on the skin and cutaneous tissue. This increases blood circulation to the area supplying nutrition to the tissue and promoting metabolism.
Cupping is a completely unique sensation and patients should expect moderate but tolerable pulling sensation during the course of the treatment. Slight bruising and mild tenderness is common after cupping, but it is not painful and any bruising should fade within a week. The cups are applied to oiled skin and can be used to massage an area to encourage circulation and lymphatic drainage – typically areas of the back are treated.
Prices
Initial appointment includes in-depth consultation & treatment £65
Subsequent Treatments 1 hour £60
A course of treatments is recommended
We will incorporate additional therapeutic treatments such as cupping and moxibustion in our treatments at no extra cost if they would be beneficial for you.
We also offer specialist Facial Acupuncture – please visit the page
Cosmetic facial acupuncture can be used as a natural approach to treating facial lines and skin quality issues such as irregular skin pigmentation, acne, rosacea, facial muscle tone, sagging features, jowls, eye bags, headaches and migraines.
Facial acupuncture can be combined with Dermalux LED Light therapy to further stimulate collagen –  please see Facial Acupuncture  page for more details
Facial Acupuncture – Initial appointment; In depth consultation and treatment £99 1 hour 15 mins
Subsequent treatments £85 1 hour includes additional full body treatment as required
Our clinic is easily accessible for acupuncture treatments from areas such as
Manchester – Whitefield – Prestwich – Bolton – Bury – Oldham – Middleton – Rossendale – Rawtenstall – Ramsbottom – Altrincham – Hale – Cheshire – Worsley
To make an appointment for your consultation

Call us now on 0161 796 1169
Book ACUPUNCTURE TREATMENT online NOW
Use our online booking facility »