Dermal filler injections for wrinkles, facial contours & natural looking lip filler enhancement
Dermal fillers are effective anti ageing treatments to enhance facial contours, plump hollow cheeks, fill wrinkles, smooth lines & enhance lip area using lip plumping injections.
Dermal fillers are available in different "thicknesses" for specific uses.  We use TeoSyal's RHA hyaluronic acid filler range which are flexible and soft. Teosyal Redensity ii can be used in under eye "tear troughs" to brighten under eye shadows.  Teosyal Redensity i and Profhilo combat loose skin, crêpey, sun damaged, ageing skin by increasing hydration & luminosity with their nutrients thus acting as a skinbooster – mesotherapy treatment.
The thicker versions of RHA 2, 3 and 4 create more volume for deep wrinkles with wrinkle relaxing injections, natural looking lip augmentation, nose, cheek & jaw re-shaping. We can subtly re-shape features including the nose to achieve a smoother profile.
Facial expressions and facial movements are not affected with dermal fillers.
There is no need to fear an over plumped result with our treatments – we specialise in natural looking results.
Treatments are suitable for both men and women.
Aesthetic treatments for a younger look in under 30 minutes
How can dermal fillers be help me?


Soften & Smooth Facial Lines & Wrinkles
Lip Enhancement Fillers providing Natural looking fuller lips
Smoker's lip-lines around mouth
Re-vitalise crêpey skin on hands, chest, neck lines or face
Lift & plump hollow cheeks
Depressed Scars – Acne Scars – Chicken Pox Scars

Face fillers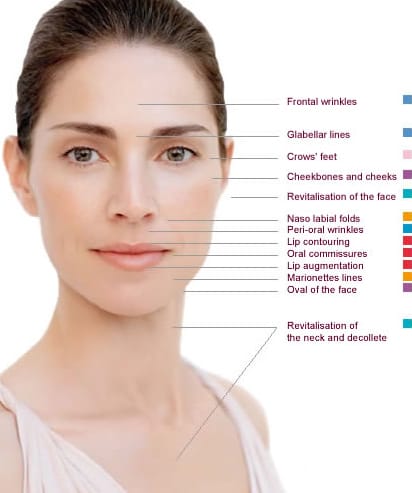 What is a dermal filler?
Dermal fillers are clear gels that are injected under the skin in small precise amounts to restore volume and structure. Our skin naturally contains hyaluronic acid which keeps the skin plump & hydrated but diminishes with age. The hyaluronic acid in Teosyal & Profhilo is of non-animal origin. There is minimal risk of allergic reactions.
The injected gel gives natural volume under the skin which is lifted up and smoothed out. A treatment takes about 30 minutes and the results can be seen immediately.
The effects of dermal fillers are not permanent – in fact we can dissolve dermal fillers immediately. Clients can have a follow-up treatment six to twelve months later to maintain the effects. Results last up to 18 months after the treatment of wrinkles.
Treatment is comfortable. Local anaesthetic cream is be applied to areas to be treated. The dermal filler itself contains local anaesthetic too. We use the TeoSyal pen injector which reduces client discomfort from injections by half.
You may be surprised that we often suggest clients start with some skin rejuvenating facial treatments before considering injectables.
This way the result of any subsequent injectable treatment is subtle and natural looking and integrates well your firmer, radiant, healthy skin.
We like our clients to be informed on options available without any pressure or obligation.
Dermal filler prices
Prices include consultation at our Manchester clinic, pain relief & review appointment if required 2 weeks after treatment
Dermal Fillers from £250 per 1ml syringe
Lip enhancement £250 per 1ml syringe
Redensity 1 Radiance & hydration boosting, revitalisation £200 per 1ml syringe
Redensity 11 Under Eye Circles & Tear Troughs £299 per 1ml syringe – we have advanced training for this highly specialised procedure
Profhilo Injectable hydrating treatment for skin tightening to face and neck £300 per 2ml syringe (Two treatments a month apart recommended)
We use the latest TeoSyal RHA hyaluronic acid fillers which stretch and flex with facial features for a smooth, natural appearance – they contain pain relief for client comfort
We inject using the award winning TeoPen which further reduces patient discomfort by half
Consultations are FREE of charge on Thursdays and Fridays 10am to 7.30pm
To make an appointment for your consultation
or treatment at our Manchester clinic
Call now on 0161 796 1169 or Book in online here