Micro Sclerotherapy Thread Vein Treatment for Legs
About the treatment.
Micro Sclerotherapy injection treatment is a long established, safe and reliable way of eliminating thread veins, spider veins, broken veins on the legs that are unsightly but cause no symptoms.
Sclerotherapy injections work by introducing a small amount of a mildly irritant solution into the spider vein making the wall stick to itself. The fine veins are then safely closed down and absorbed without harm.
An extremely fine needle is used to perform the injections.
Minor discomfort may be experienced during injections but it is rarely painful.
Usually several veins are treated per visit and repeat injections may be required if you have extensive spider or thread veins.
---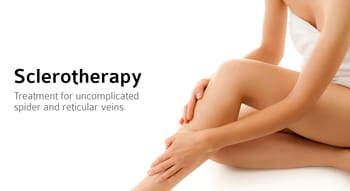 What to expect after the injections.
After injection of thread veins an inflammatory reaction is to be expected as part of the treatment process.
Overlying skin becomes red and sometimes raised, hard or tender. The veins may initially appear more prominent and darker in colour.
Some temporary discolouration like a bruise surrounding the injected flares develops.
These changes resolve over a period of weeks as the spider veins disperse and fade away.
It is important to appreciate that the full benefits of treatment may not be visible for 6-8 weeks after treatment.
Who injects at the clinic?
Our resident Nurse Prescriber Clare Deaville has been with us since 2001. She has over 25 years medical experience qualifying to Sister / Nurse Practitioner in the NHS.
Clare has undergone extensive specialist training in all aspects of injectable medical aesthetics and cosmetic surgery procedures.
Clare has a specific qualification in Microsclerotherapy that is recognised by the Royal College of Surgeons.
She was a Nurse trainer for Restylane for a number of years where she trained Doctors and Nurses in the safe use of injectables & dermal fillers.
Clare is qualified and registered as an Independent Nurse Prescriber which means she is fully authorised to medically assess and prescribe for our clients.
This complies with current government guidelines
Clare will conduct a thorough consultation with you to evaluate your medical history & determine your suitability for this treatment, offering advice on alternative treatment options.
There is no pressure to have treatment – you're under no obligation to proceed.
Consultations are FREE of charge with Nurse Prescriber Clare on Thursdays and Fridays 10am to 7.30pm
Treatment can take place on the same appointment if you wish to proceed.
Leg Thread Vein Treatment Prices
£199.00 per treatment