Dermaroller Medical Skin Needling – Natural collagen induction therapy
Medical micro-skin- needling stimulates your body's own skin repair system to produce collagen for firmer, smoother, radiant skin
Skin needling to face & décolleté – patient is our nurse.
What can you treat with Dermaroller & eDS Skin Needling?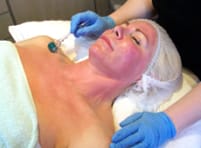 Click on links for more details on each subject
Enlarged / visible pores
Ageing and lax skin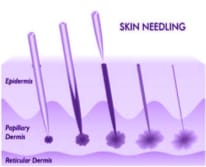 What is dermaroller collagen induction therapy?
Medical Skin Needling, also referred to as dermaroller, Collagen Induction Therapy and Micro-Needling, The treatment stimulates the body's own collagen production to improve the appearance of fine lines and wrinkles, stretch marks, skin laxity and scarring (acne, chicken pox, surgical or accidental scarring). This is achieved by introducing a series of short (0.1mm to 1.5mm) fine needles into the skin following the application of numbing cream to reduce discomfort. The sterile needles on the dermaroller or stamp are moved over the surface of the skin to create many microscopic channels into the skin
Clinical studies have shown that dermaroller treatments are as effective as laser resurfacing, IPL, CO2 laser, Fraxel and deep chemical peels in stimulation collagen production in the skin.
Derma roller creates smoother firmer skin with virtually no discomfort or recovery time
Why choose Dermaroller or Dermapen microneedling?
Laser Resurfacing vs Skin Needling
Derma roller treatments are an alternative to Laser Skin Resurfacing – which literally involves burning off the surface skin layer – resulting in redness, swelling, discomfort and down time of 6 weeks or more.
Derma roller collagen induction therapy is similar in result to Fraxel laser resurfacing – it is just as effective at a fraction of the cost and without the recovery time
Key Points
Collagen induction through controlled stimulation of the skin
Improves skin quality & thickness
It can be used on face, neck and body
Smooths & softens scar tissue
Preservation of the top layer of skin during the procedure
Less discomfort than other treatments
24-48 hours recovery period
THE ADVANTAGES
Stimulates your own collagen – natural and long-lasting.
Safe for all skin types.
There is no damage to the skin.
It can be used on thin skin.
The process is not painful.
It can be used on any area (face, neck and body).
SIDE EFFECTS
Possible reddening of the skin which should subside by morning.
Possible slight skin swelling initially for a few hours
FAQs frequently asked questions – click here »
Prices ;
Clinical depth upto 1.5mm inc pain relief £250  – face or body
Superficial 0.1mm to 0.5mm From £70 – Can be added to most of our facial treatments – Book a Combined Treatment appointment
Dermalux LED Light Therapy can be added to enhance results & reduce redness £20 supplement